Spotlight on CIVIX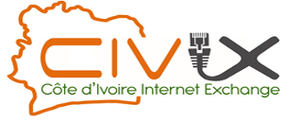 Ivory Coast, 20 May 2021
The Internet exchange point of Côte d'Ivoire, called CIVIX, is an infrastructure for connecting Internet Service Providers and Telecom operators to keep national Internet traffic at the local level. CIVIX was set up in 2013 by the Ivory Coast Telecommunications / ICT Regulatory Authority (ARTCI).
Since 2019, a Consultative Committee called CoCIVIX has been responsible for the management of CIVIX. The said committee is one of the provisions of the signing of the operating charter of the Internet Exchange Point of Côte d'Ivoire signed between ARTCI and all actors connected to CIVIX.
The CoCIVIX is composed as follows:
One representative of each actor whose equipment is connected to CIVIX;

Two representatives of the CIVIX specialized center;

One representative appointed by the Director General of ARTCI; Chairman of the CIVIX Concertation Committee.
CONNECTED PARTIES
N°

CONNECTED PARTIES

AS NUMBER

1

AVISO

29571

2

ORANGE CI

3

MTNBUSINESS

36974

4

MTN CI

5

MOOV CI

37190

6

YOOMEE CI

37475

7

VIPNET CI

37381

8

CIVIX

36946

9

PCH

42 / 3856

10

INQ CI

36994

11

GVA CI

36924

12

MAINONE CI

37282
We have a total of 10 ASNs connected to CIVIX
CIVIX ARCHITECTURE
Architecture made up of:
• A POP of MTN CI
• A POP of ORANGE CI
• An NOC of ARTCI
• An NOC of ARTCI
LEVEL OF TRAFFIC AT CIVIX
For the level of traffic you can visit the CIVIX website: http://mrtg.civix.ci/aggregate.html
WEBSITE