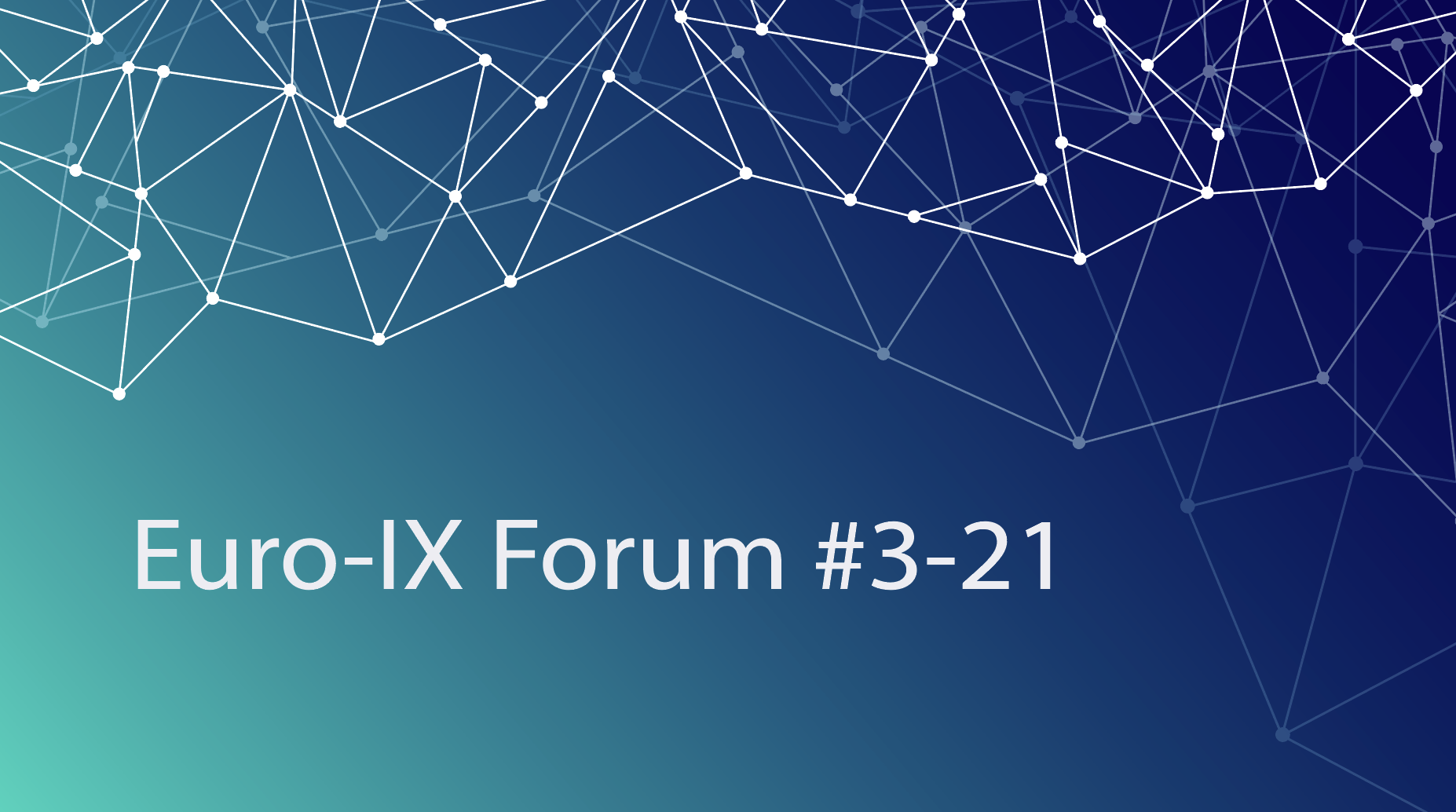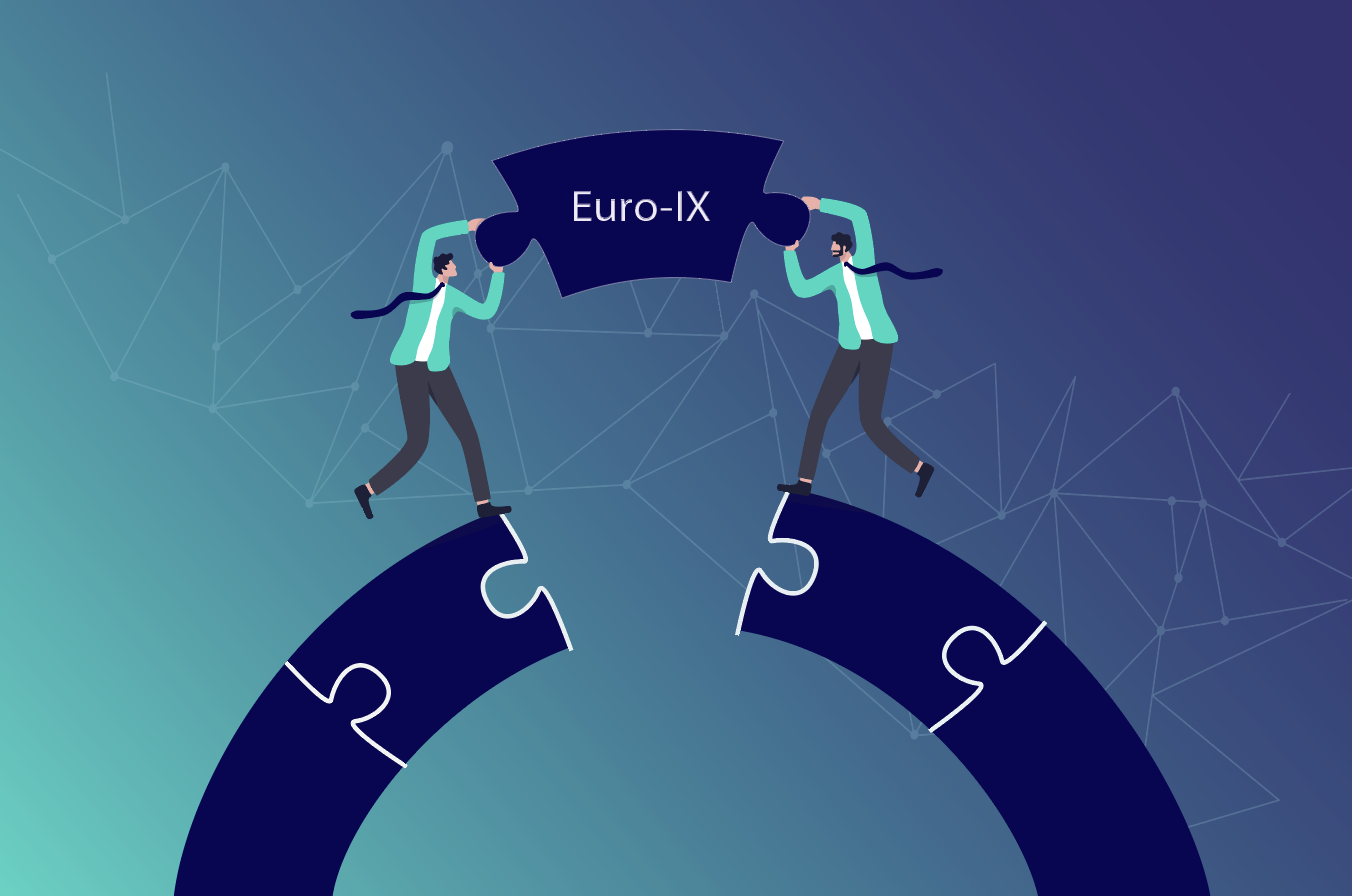 Welcome to Forum #3-21
This is the last Euro-IX virtual event of the year and we wanted to highlight some of the work being done within the community. From building a new IXP during the pandemic (GOMA-IX) to lessons learnt Detecting Proxy ARP in an IXP LAN, and Packet Filters/ IXP Switch Wish Lists, the people behind the IXPs have been working hard!
Check the program for more information on what we have planned for the day.
Click on the videos to view individual presentations from the forum
PROGRAM
Wednesday, 1 December 2021 - 13:00-15:35 UTC
The agenda is being worked on by the FPC, please check back for updates.
Opening and Welcome
Bijal Sanghani - Euro-IX
Detecting Proxy ARP in an IXP LAN
Steven Bakker - AMS-IX
On 11 August 2011, AMS-IX suffered a proxy ARP event that resulted in the tragic loss of many innocent BGP sessions. Proxy ARP usually poses no threat to a peering fabric, but there are situations in which it can lead to significant service disruption. On this tenth anniversary of the "Proxy ARP Meltdown", we look at some of the causes of "harmful proxy ARP" as well as how to reliably detect occurrences of this.
Customer Views - Dr Max Group
Miroslav Matuška - Dr.Max BDC s.r.o.
Dr.Max Group is a large European pharmacy chain. It includes about 2300 pharmacies in 8 countries. Dr.Max uses highly centralized application infrastructure in two private cloud datacenters (IaaS) and is currently moving to a large public cloud platform. In finding the most efficient way to privately interconnect all Dr.Max locations, from the smallest pharmacies to the largest warehouses, the IXP services have proven to be very beneficial. This talk discusses why it is interesting for the enterprise customer to use the IXP services directly (not through an ISP) and presents its overall experience with them.
BFD at IXPs
Thomas King - DE-CIX
BFD is a well-known technology that detects and reacts to forwarding issues quickly (within a few hundred milliseconds). Nowadays, all router vendors support BFD, and it is standard best practice to use BFD within a network. However, BFD is not so commonly used at IXPs on bilateral links and even less common on multilateral links, including the Route Servers. In this presentation, I want to highlight the usefulness of BFD at IXPs and discuss with you if we as an industry should make a joint effort to push it.
GOMA-IX
Nico Tshintu Bakajika - ISPA DRC/ KINIX
(with translation from French to English by Marc Bruyere - TOUIX)
This presentation describes in general terms the realities encountered in building an IXP in a peering ecosystem devoid of certain major players and the roles that an IXP must play to ensure its long-term operation. In particular, the construction of an IXP in this peering ecosystem during the Covid-19 period. Thus, three axes have been developed. The first axis presents the characteristics of a peering ecosystem devoid of certain major players. The second axis demonstrates the positive impacts of Covid-19 on the development of peering in the DRC and the difficulties encountered in building GOMIX during the same period.The third axis projects the various other roles that an IXP is called upon to play in the development of the peering ecosystem. 
Packet Filters / IXP Switch Wish List
Aleksi Suhonen - TREX
This presentation is about designing rules to mitigate abuse and denial of service at different layers: What mechanisms do IXPs need?
IXPDB Update and Priorities
Leo Vegoda - Euro-IX
This talk introduces work that will deliver a new presentation platform for the IXPDB, in support of its vision of bringing "parity in communicating and understanding Internet accessibility and functionality across the world through an accurate, authoritative, comprehensive, public source of structured data related to IXPs and network interconnection." It will then discuss some of the enhancements that have been suggested and request users with feature requests to share them.
15:35 UTC - Closing

ATTENDEES 
(Attendee registration information is manually updated daily)
VIEW LIST OF ATTENDEES
| # | First Name | Last Name | Company | Country |
| --- | --- | --- | --- | --- |
| 1 | Steven | Bakker | AMS-IX | United States |
| 2 | Ruben | van den Brink | AMS-IX | Netherlands |
| 3 | Peter | van Burgel | AMS-IX | Netherlands |
| 4 | Tiago | Gonçalves | AMS-IX | United Kingdom |
| 5 | Elisabetta | Ghermandi | AMS-IX | Netherlands |
| 6 | Eyad | Abukhorma | Aqaba IX | Jordan |
| 7 | Mohannad | Habaq | AqabaIX | Jordan |
| 8 | Sadeq | Alkhodari | AqabaIX | Jordan |
| 9 | Ahmad | Ramadan | AqabaIX | Jordan |
| 10 | Yazan | Jaber | AqabaIX | Jordan |
| 11 | David | Murray | Arista Networks,  Inc. | United Kingdom |
| 12 | Florian | Hibler | Arista Networks,  Inc. | Germany |
| 13 | Franck Olivier | Kouame | ARTCI | France |
| 14 | Fuad | Mohseni | Batelco | Bahrain |
| 15 | Susann | Böhme | BCIX | Germany |
| 16 | Vincentz | Petzholtz | BCIX | Germany |
| 17 | Kay | Rechthien | BCIX | Germany |
| 18 | Fadi | Khoneisser | Beirut-IX | Lebanon |
| 19 | Dimo | Nikolov | BIX.BG | Bulgaria |
| 20 | Stefan | Gulinck | BNIX | Belgium |
| 21 | Frederic | Libotte | BNIX | Belgium |
| 22 | Caterina | Parals | CATNIX | Spain |
| 23 | Armand | KOFFI | CIVIX (Côte d'Ivoire Internet Exchange Point) | Côte d'Ivoire |
| 24 | Mario | Klobucar | CIX | Croatia |
| 25 | John | Shade | CIXP | Switzerland |
| 26 | Edoardo | Martelli | CIXP | Switzerland |
| 27 | Maria Isabel | Gandia | CSUC / CATNIX | Spain |
| 28 | Alina | Rubina | DE-CIX | Germany |
| 29 | Arnold | Nipper | DE-CIX | Germany |
| 30 | Daniel | Spierling | DE-CIX | Germany |
| 31 | Thomas | King | DE-CIX Management GmbH | Germany |
| 32 | Peter | Helmenstine | Digital Realty | United States |
| 33 | Dan | Václavek | Dr. MAX BDC | Czech Republic |
| 34 | Miroslav | Matuška | Dr.Max BDC s.r.o. | Czech Republic |
| 35 | Michał | Małyszko | EQUINIX | Poland |
| 36 | Martin | Atkinson | Equinix | United Kingdom |
| 37 | Leo | Vegoda | Euro-IX | United States |
| 38 | Bijal | Sanghani | Euro-IX | United Kingdom |
| 39 | Mikael | Holmberg | Extreme Networks | Finland |
| 40 | Joerg | Ammon | Extreme Networks | Germany |
| 41 | Portia | Rabonda | Flexoptix   GmbH | South Africa |
| 42 | Fearghas | McKay | FLEXOPTIX GmbH | United States |
| 43 | Samuel | Triolet | FranceIX | France |
| 44 | Kiran | Makhijani | Futurewei | United States |
| 45 | Kiran | Makhijani | Futurewei | United States |
| 46 | Michalis | Oikonomakos | GR-IX | Greece |
| 47 | Brent | Mc Intosh | Grenada Internet Exchange | Grenada |
| 48 | Nick | Hilliard | INEX | Ireland |
| 49 | Patricia | Soria | INEX | Ireland |
| 50 | Barry | O'Donovan | INEX | Ireland |
| 51 | Eileen | Gallagher | INEX | Ireland |
| 52 | Angela | Stanescu | InterLAN Internet Exchange | Romania |
| 53 | Kevin | Meynell | Internet Society | Netherlands |
| 54 | Davina | MPUTU | ISPA | Congo |
| 55 | Nico | Tshintu Bakajika  | ISPA-DRC | Congo |
| 56 | Vladislav | Bidikov | IXP.mk | North Macedonia |
| 57 | Takejiro | Takabayashi | JPIX | Japan |
| 58 | Masataka | Mawatari | JPIX | Japan |
| 59 | Katsuyasu | Toyama | JPNAP | Japan |
| 60 | Jennifer | Holmes | LINX | United Kingdom |
| 61 | Kurt Erik | Lindqvist | LINX | United Kingdom |
| 62 | Nurani | Nimpuno | LINX | Sweden |
| 63 | Moyaze | Shivji | LINX | United Kingdom |
| 64 | Ian | Chilton | LONAP | United Kingdom |
| 65 | David | Croft | LONAP | United Kingdom |
| 66 | Peter | Taphouse | Lonap | United Kingdom |
| 67 | Will | Hargrave | LONAP Ltd | United Kingdom |
| 68 | stephane | Kraus | LU-CIX | Luxembourg |
| 69 | Irene | Lalioti | LU-CIX | Luxembourg |
| 70 | Michel | LANNERS | LU-CIX | Luxembourg |
| 71 | Claude | Tompers | LU-CIX GIE | Luxembourg |
| 72 | Mickael | Do Couto | LU-CIX Management G.I.E. | Luxembourg |
| 73 | Cyrille | Meachler | LU-CIX Management G.I.E. | Luxembourg |
| 74 | Bill | Reid | Manitoba Internet Exchange | Canada |
| 75 | Stefan | Wahl | Megaport | Germany |
| 76 | Stephane | Adou | MOOV-AFRICA CI | Côte d'Ivoire |
| 77 | Mikhail | Grishin | MSK-IX | Russia |
| 78 | Aleksandr | Azarenok | MSK-IX | Russia |
| 79 | Mikhail | Kovalev | MSK-IX | Russia |
| 80 | Ayah | Odeh | Naitel | Jordan |
| 81 | Qusai | Yaseen | Naitel | Jordan |
| 82 | Hazem | Alkhoury | Naitel - AqabaIX | Jordan |
| 83 | flavio | luciani | Namex | Italy |
| 84 | Marta | Burocchi | Namex | Italy |
| 85 | Luca | Davoli | Namex - Roma IXP | Italy |
| 86 | Siri | Brenden | Netnod | Sweden |
| 87 | Andreas | Dobloug | NIX | Norway |
| 88 | Petter | Bjørbæk | NIX | Norway |
| 89 | Ondrej | Filip | NIX.CZ | United Kingdom |
| 90 | Jaromír | Novák | NIX.CZ | Czech Republic |
| 91 | Ester | Paal | NIX.CZ | Czech Republic |
| 92 | Marian | Rychtecky | NIX.CZ,  z.s.p.o. | Czech Republic |
| 93 | Jerry | Grondel | NL-ix | Netherlands |
| 94 | Greg | Hankins | Nokia | United States |
| 95 | Jason | Gintert | Ohio IX | United States |
| 96 | Konrad | Plich | Orange Polska | Poland |
| 97 | Ferenc | Käszdorf | Rendszerinformatika Zrt | Hungary |
| 98 | Osama | Aldosary | Salam | Saudi Arabia |
| 99 | Salman | Alomiri | Saudi Arabian Internet Exchange | Saudi Arabia |
| 100 | Yolandi | Robinson | Teraco Data Environments/NAPAfrica | South Africa |
| 101 | Alessandro | Galardini | TOP-IX | Italy |
| 102 | Luca | Cicchelli | TOP-IX | Italy |
| 103 | Marc | Bruyere | TouIX | Japan |
| 104 | Aleksi  | Suhonen | TREX | Finland |
| 105 | Dick | van Schooneveld | United Zero,  VVV Investment Group,  ES | Netherlands |
| 106 | Leandro | Bertholdo | University of Twente | Netherlands |
| 107 | Rainer | Vorauer | University Vienna VIX | Austria |
| 108 | Kaudjhis Serge | AMBEU | VIPNET | Côte d'Ivoire |
| 109 | Issam | Fayad | Virtual technologies and Solutions | Ghana |
| 110 | Harald | Michl | VIX | Austria |
| 111 | Liviu-Radu | Radulescu | VIX | Austria |
| 112 | Luca | Finotti | VSIX | Italy |