Business Continuity at IXPs
 
During the early days of the pandemic the Euro-IX Membership came together regularly to discuss the impact covid-19 had on IXP operations. This was invaluable and gave many IXPs insight into what was coming and how to tackle particular challenges that came along (see FAQ section below).
At the end of 2020, many IXPs and other organisations in our community were planning for the future and thinking about strategy, budgets, member/customer relationships and how to build new business relationships at a time where we are limited to mostly virtual meetings.
Hear from some industry leaders that thought about this and shared their insight.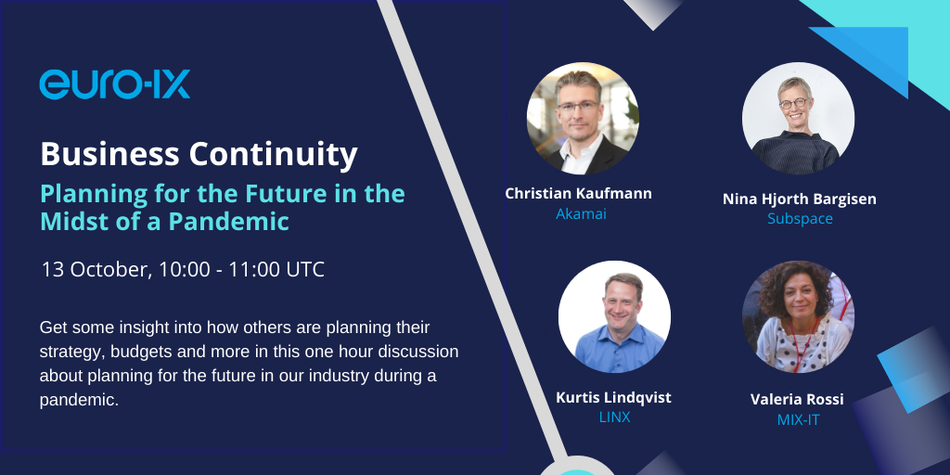 Planning for the Future
This meeting held on 13th October 2020, shared some insights about how you can effectively strategise for the future.
Business Continuity at IXPs FAQ
The outbreak of Covid-19 has had widespread impact all over the world. With the IXP community, business and daily operations have had to change and adapt procedures for the safety of staff and members. The Business Continuity/ Covid-19 and Impact on IXPs calls was initiated to bring the community together to share planning and other activities they have taken to mitigate the effects of COVID-19 on their staff, organisation and operations.
What is discussed on the calls?
Here are some points of discussion during the call;
Is your IXP back working as usual in offices, part-remote or full time working from home?
How is your IXP currently functioning, have you had any recent operational issues due to the virus and inability to work as before?
Have you identified any new challenges that you can share?
Virtual meetings, what's working, what's not?
What other/new activities are you carrying out to stay connected to your customer/members?
Is there anything that the rest of the community or Euro-IX can do to assist each other?
 
Summary of Early Steps Taken by IXPs